Frames of type 1D are delivered as one welded part. They can be installed before the finishing phase in construction, before plastering the walls. They can be placed both during the bricklaying of the walls and in an already made wall opening. Hereby the cavity between wall and frame is filled with concrete.
All door frames are profiled from electrolytically galvanized plate (ZE25/25) or thermally galvanized steel plate (Z275), so all sides are protected against corrosion. Plate thickness: 1.5 mm.
After pre -treatment, the frames are sprayed electrostatically with a light gray primer (RAL 7035). The final finishing is applied by the customer after installing the frames on site
The primer can be painted over with conventional paint or two component paint.
Frames of type 1D are not powder coated at the factory.
By default, the visual edges are 35 mm wide, the other edges 15 mm.
Deurbreedte:
630, 680, 730, 780, 830, 880, 930, 980, 1030, 1080, 1130, 1180, 1230 mm
Deurhoogte:
2015, 2115 en 2315 mm
Deurdikte:
40 mm voor gewone deuren
40 mm voor deuren BW30
50 mm voor deuren BW60
Muurdikte:
110, 160 en 210 mm voor metselwerk
75, 100 en 125 mm voor lichte wanden.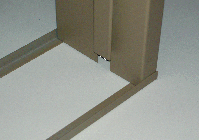 Without inflooring (standard)
With new brickwork, the frames are incorporated 35 mm under the floor pass. The assessment slat has been removed below the level of the finished floor. The floor or sill can then be pushed under the stop slat and should not be cut out.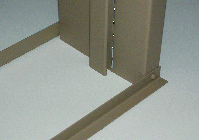 Without inflooring.
The 35 mm flooding can be omitted if the floor is already finished, including for renovations and with light partitions. The connection profiles are then attached with screws and can be removed after the frame is placed.
The hinges are mounted in a box that is attached behind the frame by means of projection welding. Screws is done with 1 hexagon screw (no cross head like before!) So that the hinges can always be adjusted horizontally.
Material:
Straight doors: galvanized or stainless steel
Doors with rebate: nickel -plated or gilded.
For heavy doors, special hinges are provided with pressure bearing, which are adjustable in 3 directions.
Also possible: invisible hinges, which are not visible when the door is closed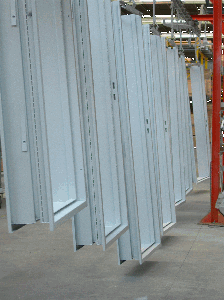 2 punched final holes are provided (a) for ditches that meet the DIN standard (72 mm), protected at the rear by a protective box.
As an option, interchangeable lock plates are also available in stainless steel that are folded 10 mm on the front of the frame (B), to prevent the paint of the frame from being damaged if the door is closed without operating the crutch.

Electrically operated locking plates are mounted for doors with access control.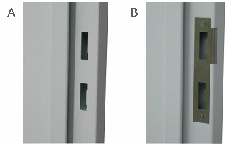 Traditional frames (1D) are delivered without packaging.