Paint doors are composed of a framework of dried pine wood, within which there is a core of your choice. A hard hardboard plate is glued on both sides.
The edge wood can also be made of hardwood (meranti). Meranti's structure gives a nice result after painting.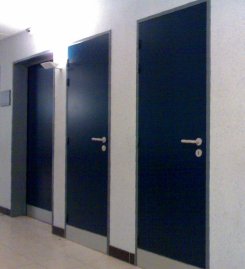 All doors are ready to install:
Lock and hinges installed;
Key holes drilled;
Possible patent holes drilled for door handles;
The sides and – if requested – the top can be sloped three degrees.
Side sliders placed in double doors;
Ventilation grilles placed;
One or more rectangular or round glass openings, including glass battens in wood of your choice (see documentation);
Cable entry for electric motor locks;
…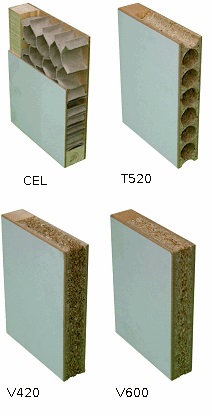 CODE
Beschrijving
Specificaties
CEL
Celvulling: honingraatrooster in karton
T520
Tubespaan: spaanplaat met horizontale kanalen
520 kg/m3
27mm
V420
Volle spaanplaatvulling
420 kg/m3
V600
Volle spaanplaatvulling
600 kg/m3
BW30
Brandwerend 30 minuten
NBN 713.020
BW60
Brandwerend 60 minuten
NBN 713.020
GW
Geluidswerende deuren
IW
Inbraakwerend: gepantserd met 2 stalen platen van 1,5 mm
All paint doors with chipboard cores are sanded 2-sided of thickness before the hardboard plates are glued on the filling.
All irregularities as well as the production tolerances of edge wood and chipboard are thus completely eliminated. This calibration reduces the chance that the edge wood can show on the door surface after painting. Before painting, the doors should not be stored in a damp environment.