HPL-doors with laminate finishing. These are composed of a frame in dried and steamed pine wood, inside which is a core. A hard hardboard plate is glued on both sides.
A hardwood side lath is glued to the 2 or 4 sides. After smooth sanding, a HPL-sheet is glued to the surfaces of the door leaf. The edges are slightly chamfered.
Different brands and structures of HPL are possible, including Formica and Polyrey, with thickness 0.7 (standard) or 1.1 mm. We have a number of stock colors for quick delivery.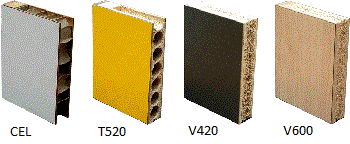 All doors are ready to install:
Lock and hinges installed;
Key holes drilled;
Possible patent holes drilled for door handles;
The sides and – if requested – the top can be sloped three degrees.
Side sliders placed in double doors;
Ventilation grilles placed;
One or more rectangular or round glass openings, including glazing beads in the type of wood of your choice (see documentation); excluding glass
Cable entry for electric motor locks;
…
CODE
Beschrijving
Specificaties
CEL
Celvulling: honingraatrooster in karton
T520
Tubespaan: spaanplaat met horizontale kanalen
520 kg/m3
27mm
V420
Volle spaanplaatvulling
420 kg/m3
V600
Volle spaanplaatvulling
600 kg/m3
MDF
Massieve MDF
38mm
BW30
Brandwerend 30 minuten
NBN 713.020
BW60
Brandwerend 60 minuten
NBN 713.020
GW
Geluidswerende deuren
IW
Inbraakwerend: gepantserd met 2 stalen platen van 1,5 mm
The edges of the door can be finished in different ways:
Without side slats: hardboard and edge wood (pine) are visible on the 4 narrow sides of the door.
Hardwood side slats that are invisible when the door is closed. The HPL is glued over the side slats:
2a: Two hardwood side slats on the vertical sides of the door leaf (standard).
2b: Four side slats: the top and bottom of the door leaf can also be finished with hardwood side slats.
Four visible side slats: the side slats remain visible when the door is closed.
Four visible side slats with tongue and groove joint.
Side slats - types of wood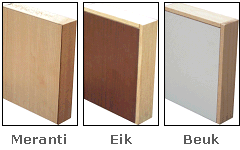 Meranti (default)
Oak
Beech
Maple
Afzelia
Wengé
Other wood types on request
10 mm (default for type 2)
15 mm
20 mm
Revolving doors
Sliding doors
Swing doors
Lock reinforcement
Reinforcement for door closer
Milling line drawing
| Code | Naam |
| --- | --- |
| F2255 | Polar White |
| F2273 | Seringa |
| F2296 | Sno White |
| F2297 | Terril |
| F2770 | Sarum Grey |
| F7902 | Iron |
| F7912 | Storm |
| F7923 | Surf |
| F7927 | Folkestone |
| F7928 | Mouse |
| F7929 | Oyster Grey |
| F7938 | Glacier |
| F7949 | Soft White |
| F7961 | Fog |
| F1040 | Alpino |