Rebated doors for steel or wooden frames have a milled edge on 3 sides, so that the space between door and frame is not visible when the door is closed.
The clearance is greater than that of a flush inner door. The installation is very simple, and the doors can be adjusted horizontally in 2 directions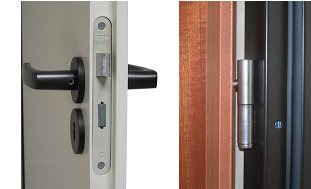 Afwerking
Vulling
Verfdeuren te schilderen door de klant
Kantafwerking: hardhout
T520
V420
V600
Afgewerkt met Formica kunststofplaten. Het randhout (meranti of eik) blijft zichtbaar bij gesloten deur.
T520
V420
all locks installed
hinge clearances have been pre-milled
2 holes for hinges
Default door height:
2015, 2115 and 2315 mm
Door width:
630 up to 1230 mm (per 50 mm)
Door thickness:
39 à 40 mm
Full bespoke is also possible
Ventilation grill in PVC of aluminum
Openings for glass, including glazing beads
Door spy hole
Milling line drawings
Rebated doors are not available in a fire-resistant version.