Two-way doors are often installed in kitchens. They are often glazed to prevent people from bumping into them.
They are suspended from double spring hinges and can be installed in metal or wooden frames.
Single doors or double doors
Metal

Type 1D (welded whole):
primer finish
type 3D (3-parts)
finish with powder coating in RAL colour of choice

Wood:

meranti plywood
block frame in hardwood
The hinges are mounted on a slat of 30 x 15 mm thick, resulting in a total frame width that is 15 mm larger than the frame of a regular door.
Since revolving doors are often in the same space next to regular doors, they are made the same height as the doors. This way, standard door sizes can be used. The top piece and the closing side of the frame have a flat design.
Depending on the dimensions and weight of the door leaf, the spring tension can be adjusted.
For very wide and heavy doors, the recoil can be that strong it could pose a danger to small children. Two-way doors are not often used in residential projects.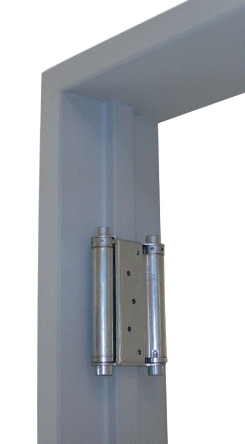 Core:
CEL: honeycomb roster
T520: tubular core
V350: solid chipboard 350 kg/m3
V600: solid chipboard 600 kg/m3
Finish:
Paint doors
HPL-doors
Usually no lock is provided in a two-way door. If desired, a cylinder lock can be installed.